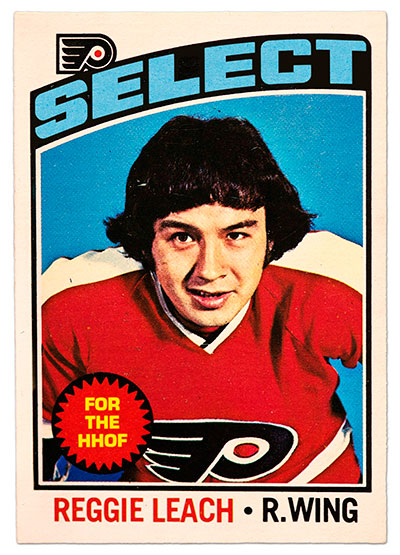 John K. Samson
PO Box 83-971 Corydon Avenue
Winnipeg, Manitoba
R3M 3S3
February 23, 2013
Mr. Bill Hay, Chairman of the Board, and Members of the Selection Committee
The Hockey Hall of Fame
30 Yonge Street
Toronto, Ontario
M5V 1X8
Dear Mr. Bill Hay, Chairman of the Board, and Members of the Selection Committee, Hockey Hall of Fame;
In accordance with the Hockey Hall of Fame's Policy Regarding Public Submission of Candidates Eligible for Election into Honoured Membership, please accept this bona-fide submission putting forth the name Reggie Joseph Leach for your consideration.
A member of the Berens River First Nation, Reggie Joseph Leach was born in 1950 in Riverton, Manitoba. While facing the injustices of racism and poverty, and playing on borrowed skates for much of his childhood, Leach's terrific speed and honed shooting skills earned him the nickname "The Riverton Rifle." He went on to become one of the most gifted and exciting hockey players of his generation.
His pro-hockey accomplishments are truly impressive: two-time NHL All Star, Conn Smythe Trophy winner (the only non-goalie from a losing team to ever win it), 1975 Stanley Cup winner, 1976 Canada Cup winner, and Regular Season Goal Scoring Leader, to name a few.
His minor league record is remarkable, too. As a legendary member of the MJHL/WCJHL Flin Flon Bombers, Mr. Leach led the league in goal-scoring twice, and was placed on the First All-Star team every season he played.
The statistical analysis in the pages that follow, prepared by Phil Russell of Dozen Able Men Data Design (Ottawa, Ontario), makes a clear and persuasive case that Mr. Leach's numbers as an MJHL, WCJHL, International and NHL player qualify him for induction as an honoured member.
Although statistics often provide the tune to which we set our ambitions, we are taught that, in the end, a person should only be judged by the content of his or her character. Reggie Leach's most impressive feat may therefore be his continued battle against alcoholism. Mr. Leach has dedicated much of his time speaking to young people, with admirable honesty and directness, about how alcohol injured every aspect of his life. The value of his ongoing service as a mentor is incalculable.
As a songwriter, I've expressed my belief that Reggie Leach should be inducted into the hall of fame with a song that takes the form of an online petition, called www.ipetitions.com/petition/rivertonrifle/. On the next page you will find the lyrics, and a link to thousands of signatures that have been collected from people all over the world.
Above all, the letters of support included in this submission, many of them from First Nations people, are the most abiding proof that Reggie Joseph Leach has inspired and encouraged people both in and far beyond the world of hockey, and therefore deserves to be inducted into the Hockey Hall of Fame as an Honoured Member.
Thank you for giving this submission your thoughtful attention.
Yours truly,
John K. Samson
—
www.ipetitions.com/petition/rivertonrifle/
Whereas Reggie Leach was born and played minor hockey back in my hometown. The Rifle fired his first 500 here, slapped his way into the NHL.
Whereas some of us weren't always fair to the Native kid on borrowed skates — chippy Goolies and Ukranians in the corners with our elbows up.
Whereas Reggie on a play-off run could make a dad go buy the new TV, and put his youngest by the window, place the split antenna in her tiny hands.
Whereas photos from the old Tribune of Reggie smiling with the Stanley Cup curled their corners, dropped off bedroom walls, left a square of where they used to be.
Therefore we, the undersigned, put forth his name to the Hockey Hall of Fame.
Career Statistics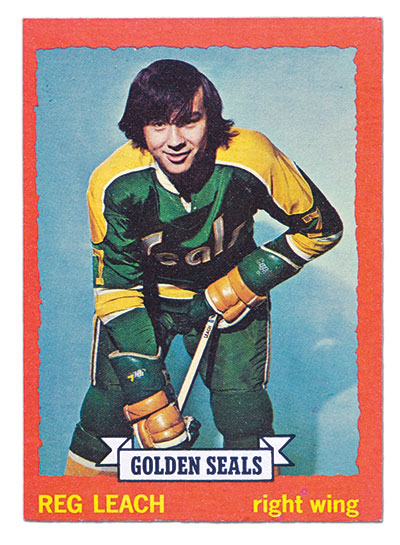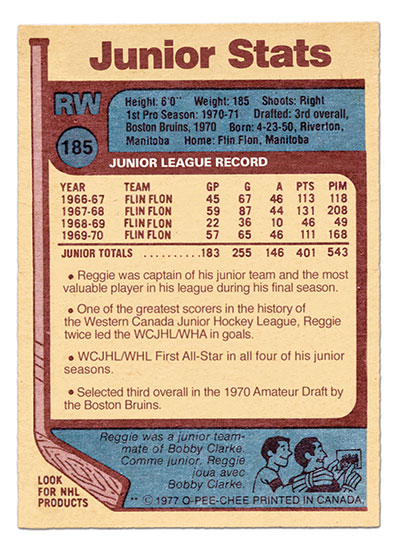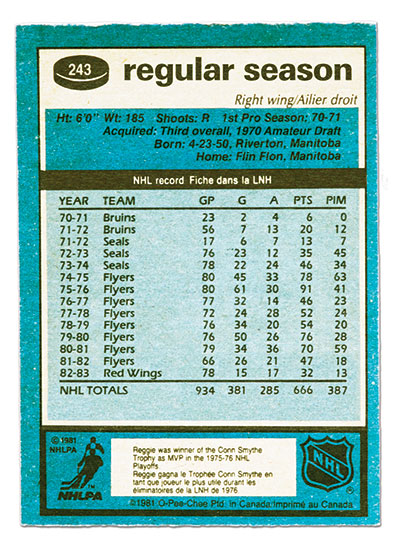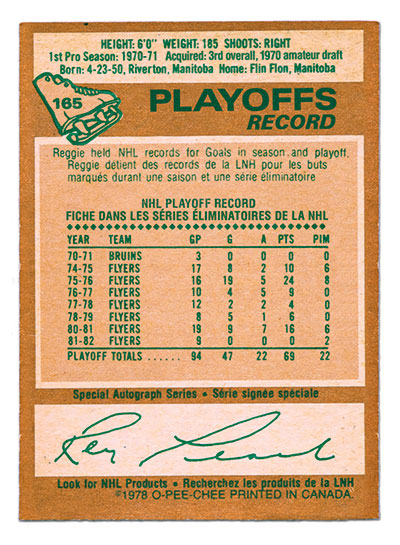 Career Highlights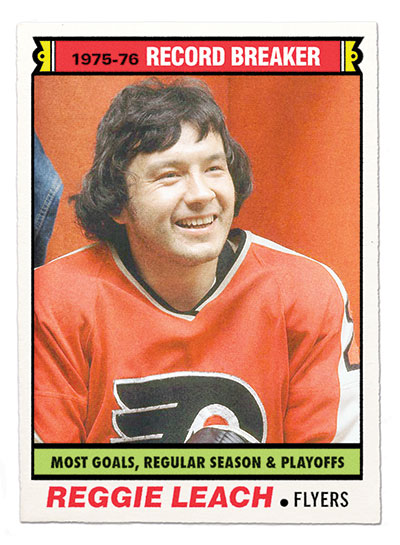 In the 1975-76 season, Reggie scored a then-record 80 goals; 61 goals in the regular season and 19 more in the playoffs.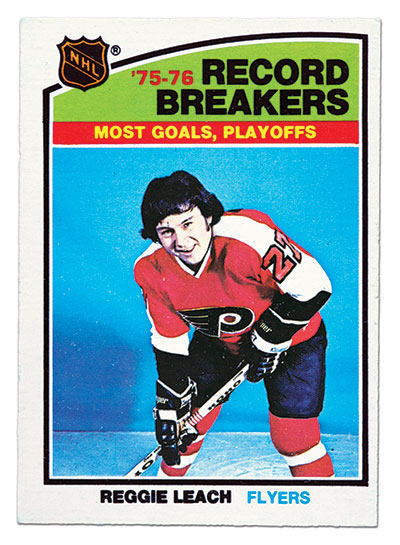 Reggie set the record for most goals in a single playoffs, scoring 19 in the 1976 post-season. The record was equalled by Jari Kurri in 1985. Kurri achieved this feat in 18 games, Reggie in just 16.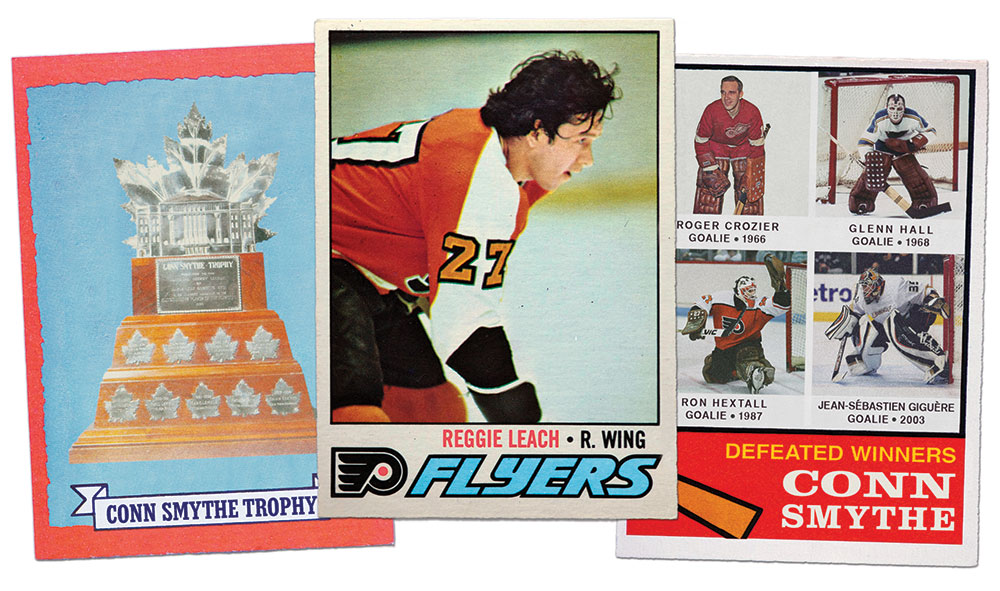 Only five players from the losing team have won the Conn Smythe Trophy. Four of them were goalies. The fifth? Reggie Leach, the only skater from a non-Stanley Cup winning side to be named as the championship's most valuable player.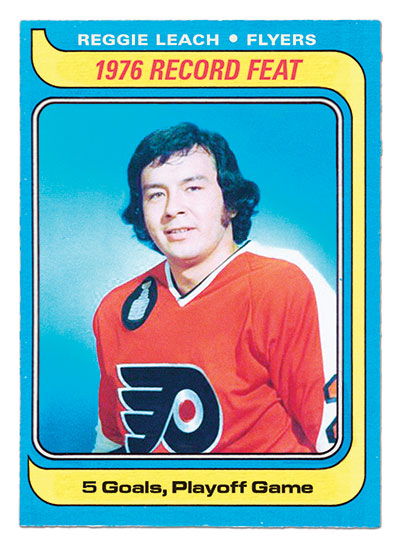 On May 6, 1976, Reggie scored 5 goals in a playoff game against the Boston Bruins. Only four other players in NHL history have accomplished this feat — all are Honoured Members of the Hockey Hall of Fame.
Reggie Leach Career Stats in Comparison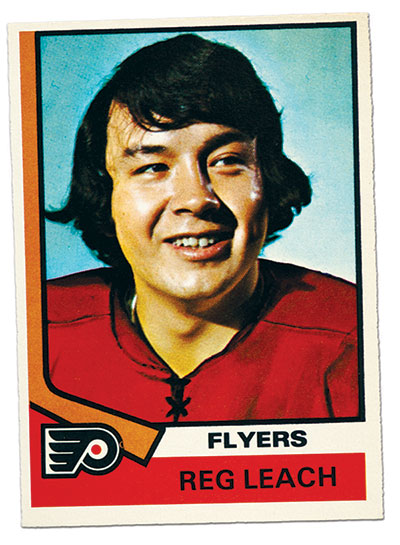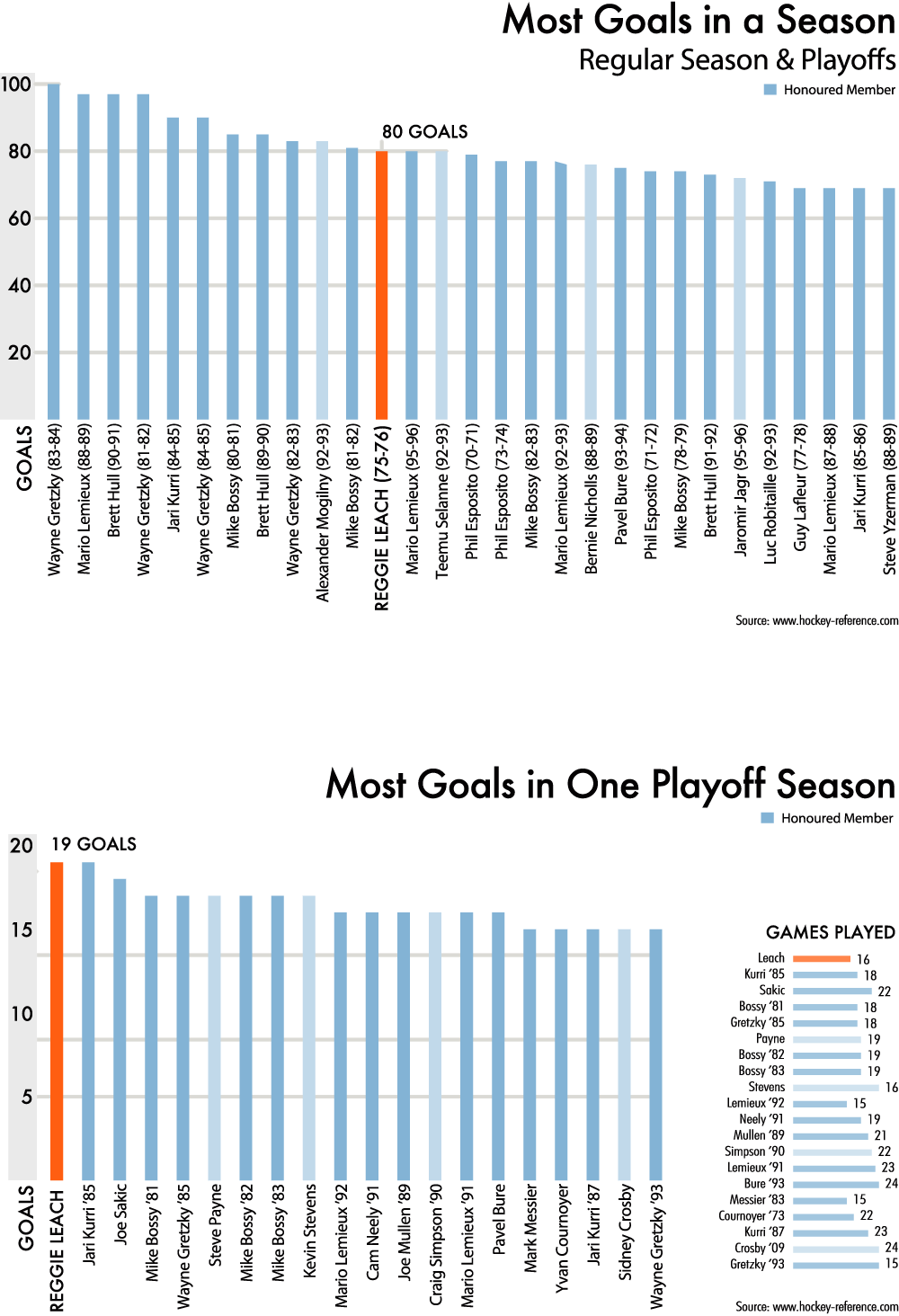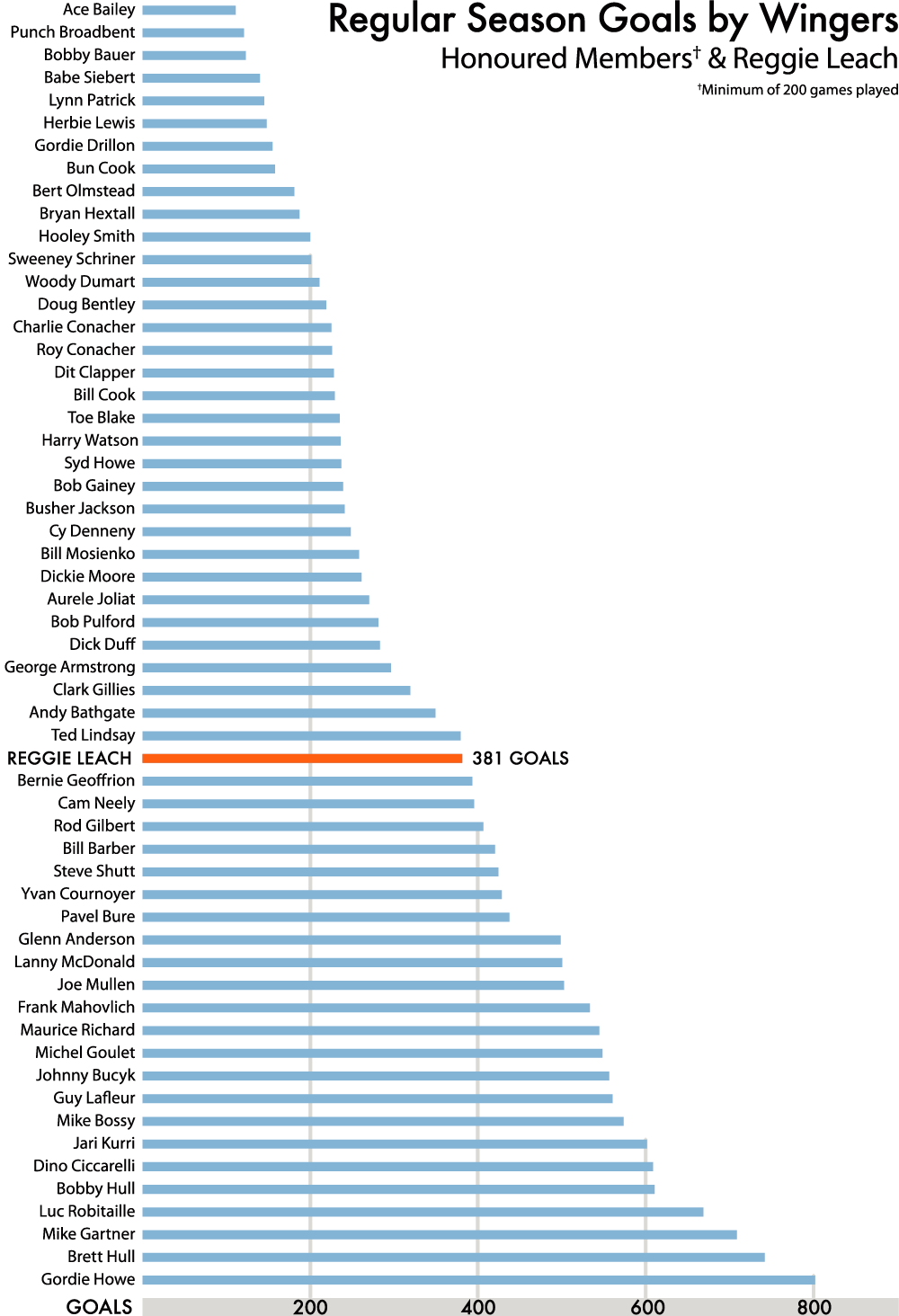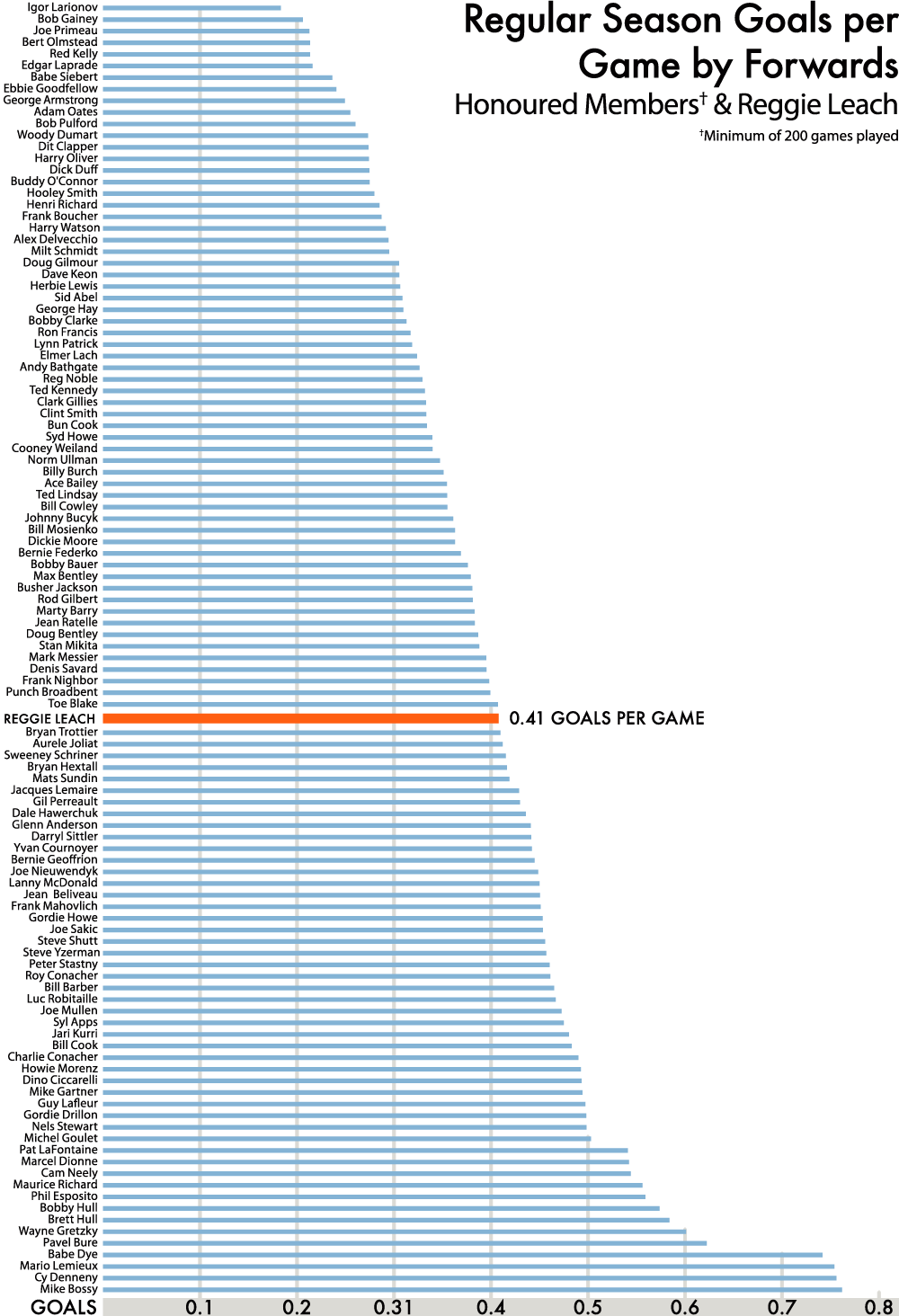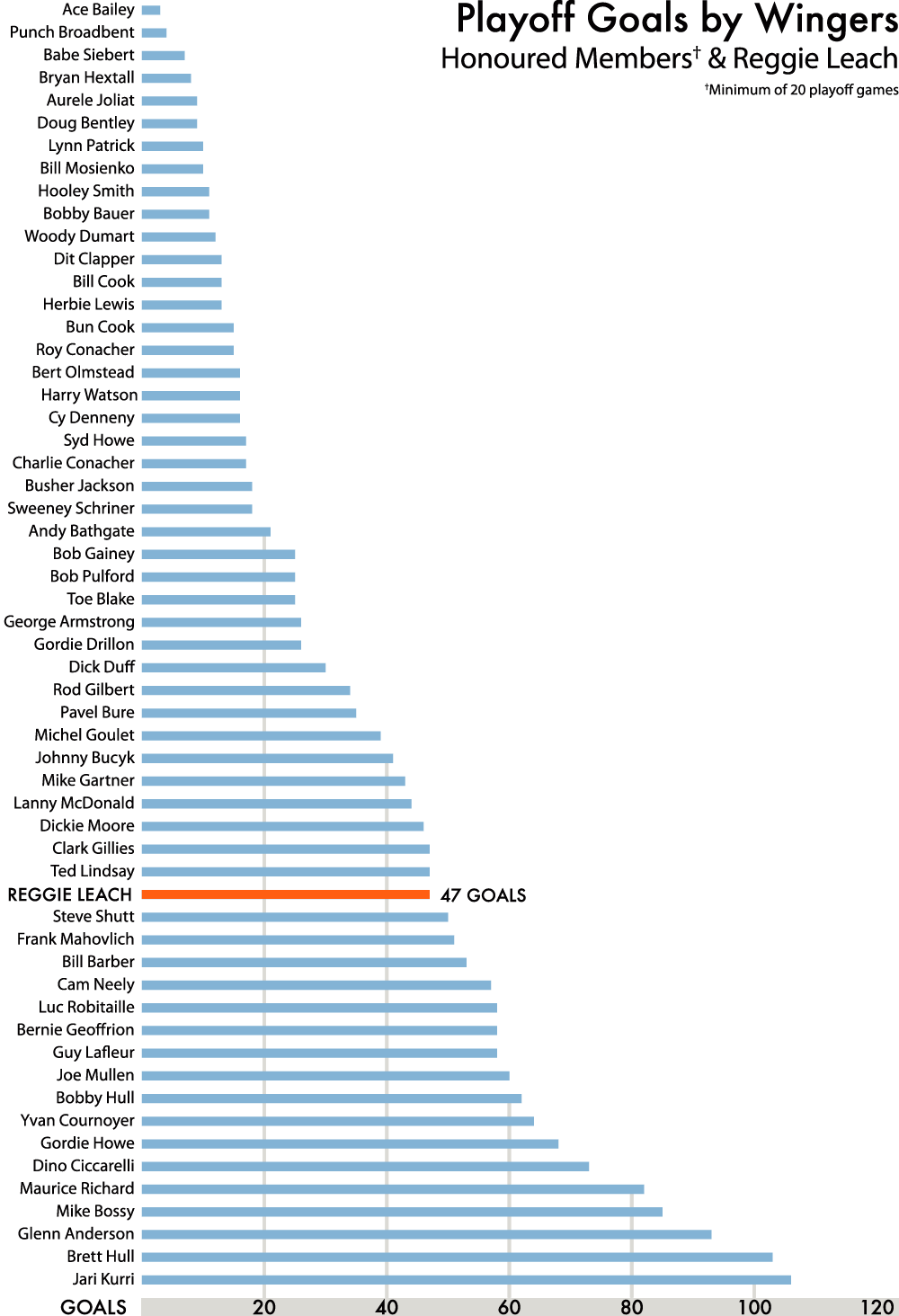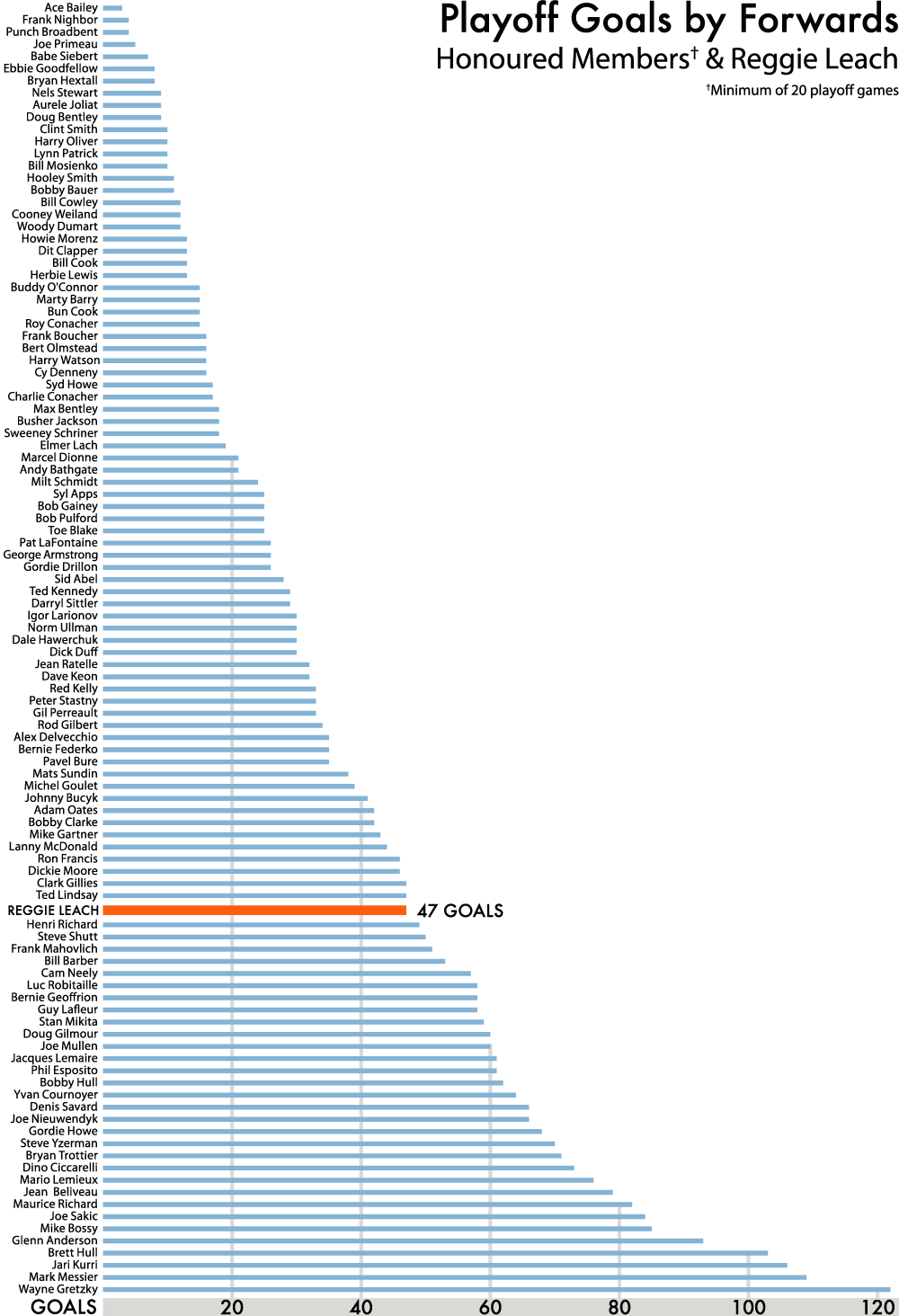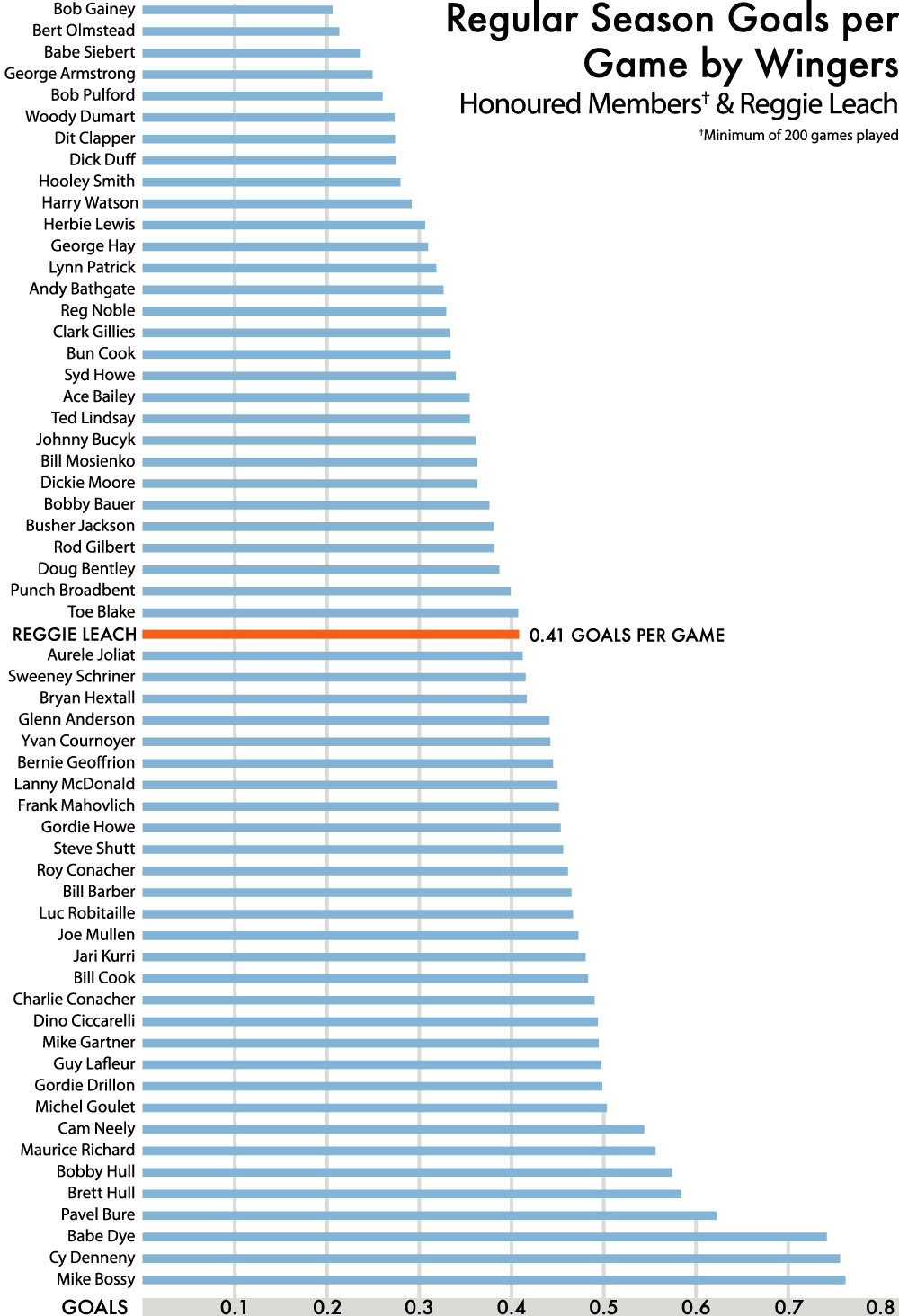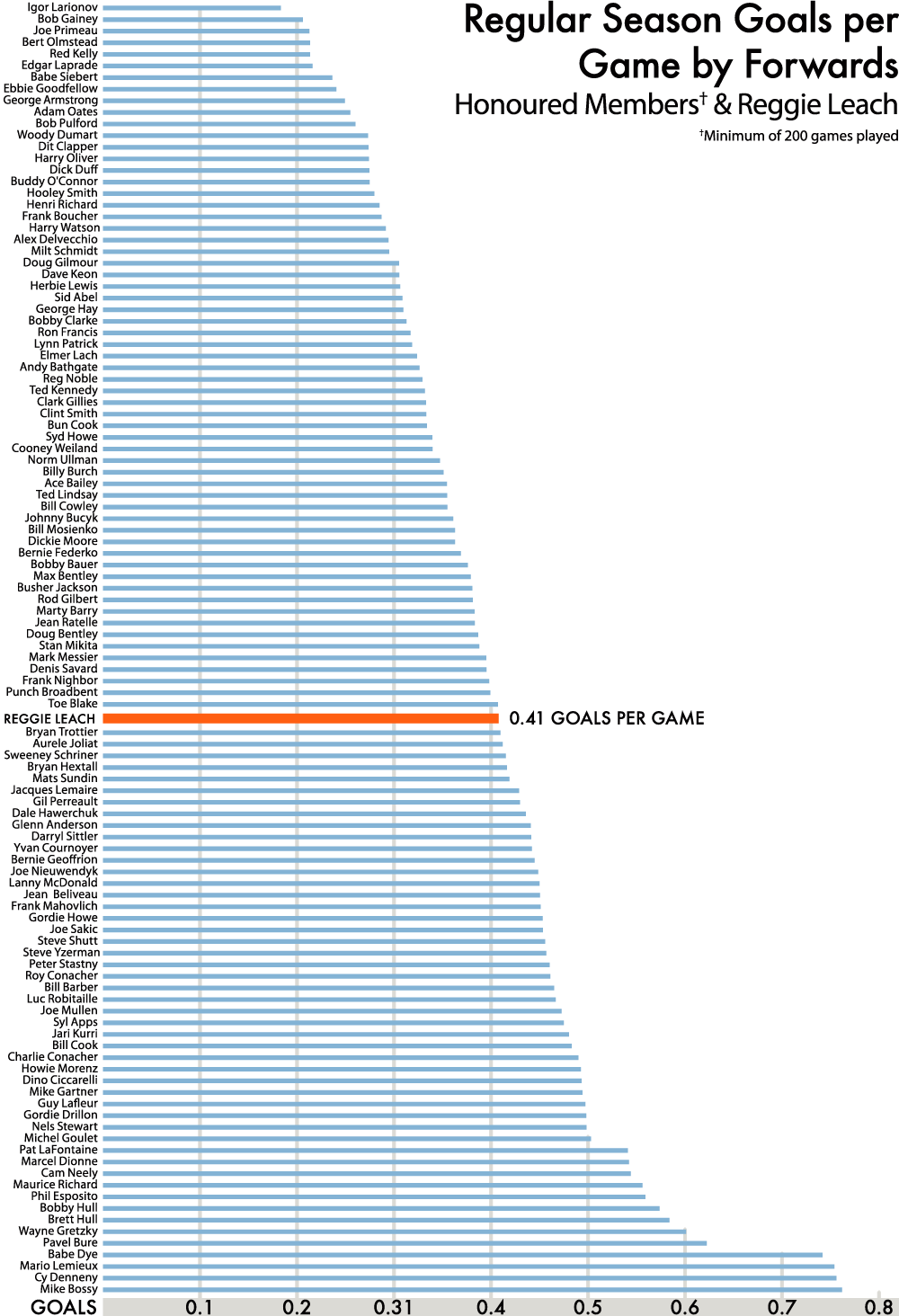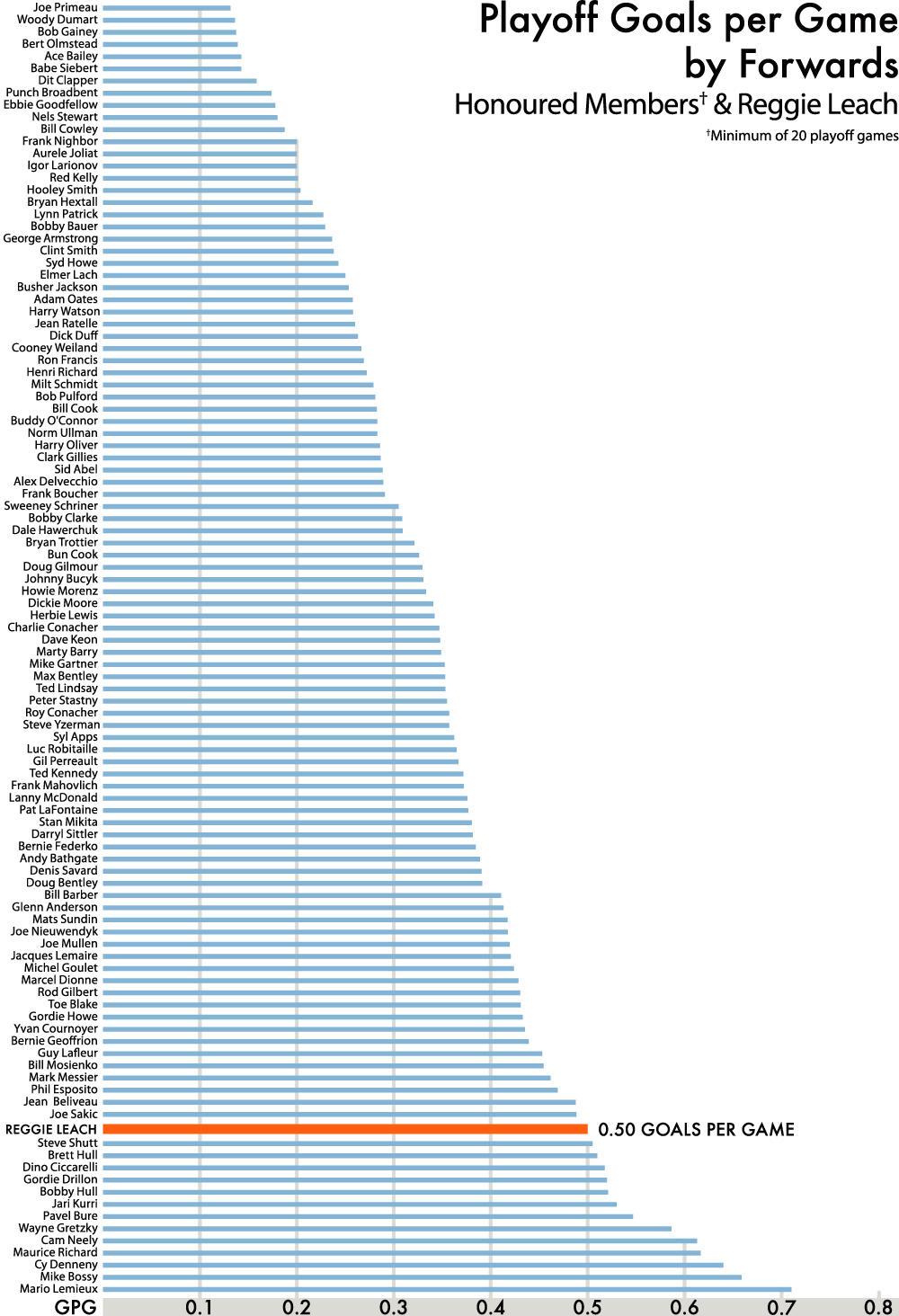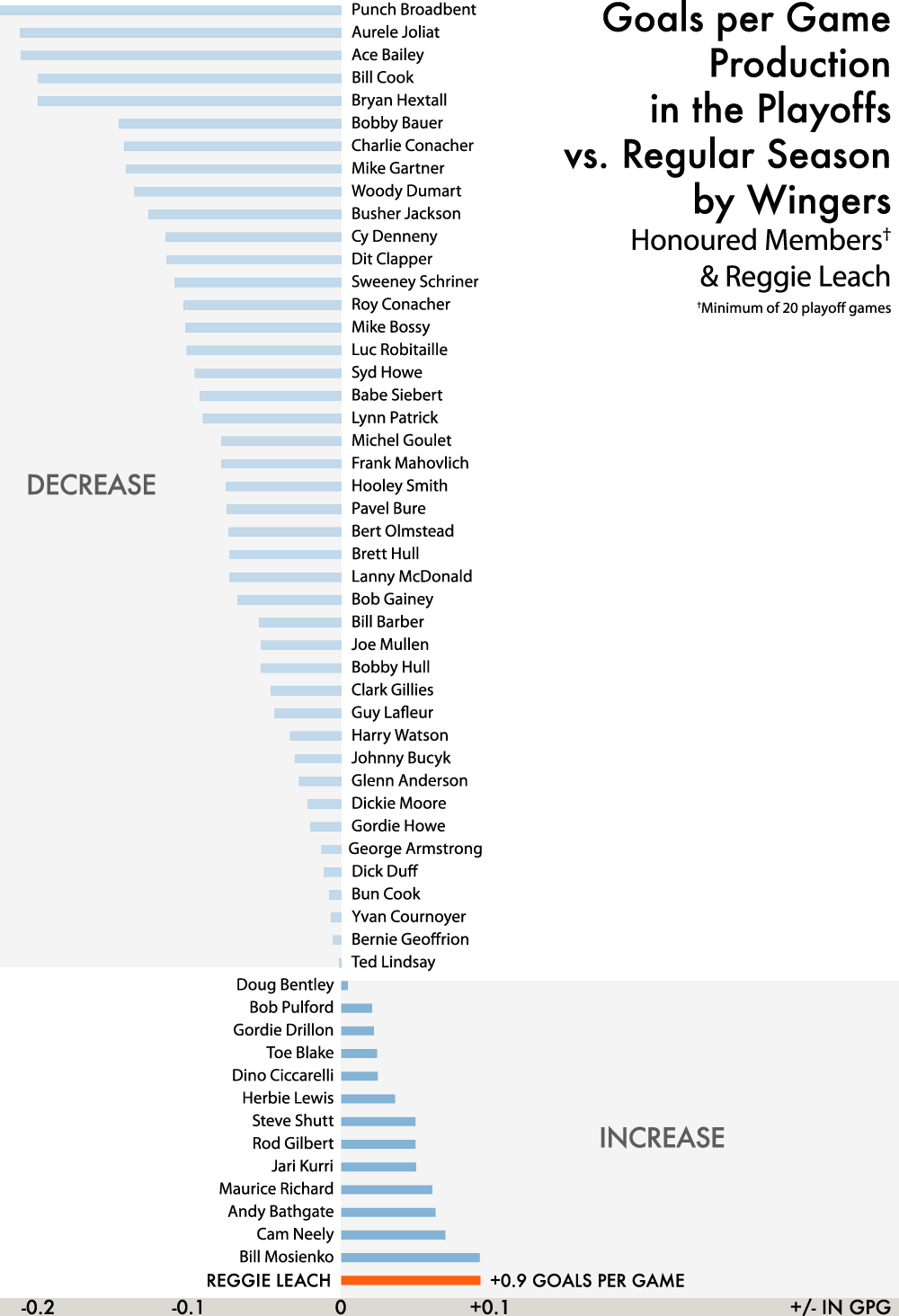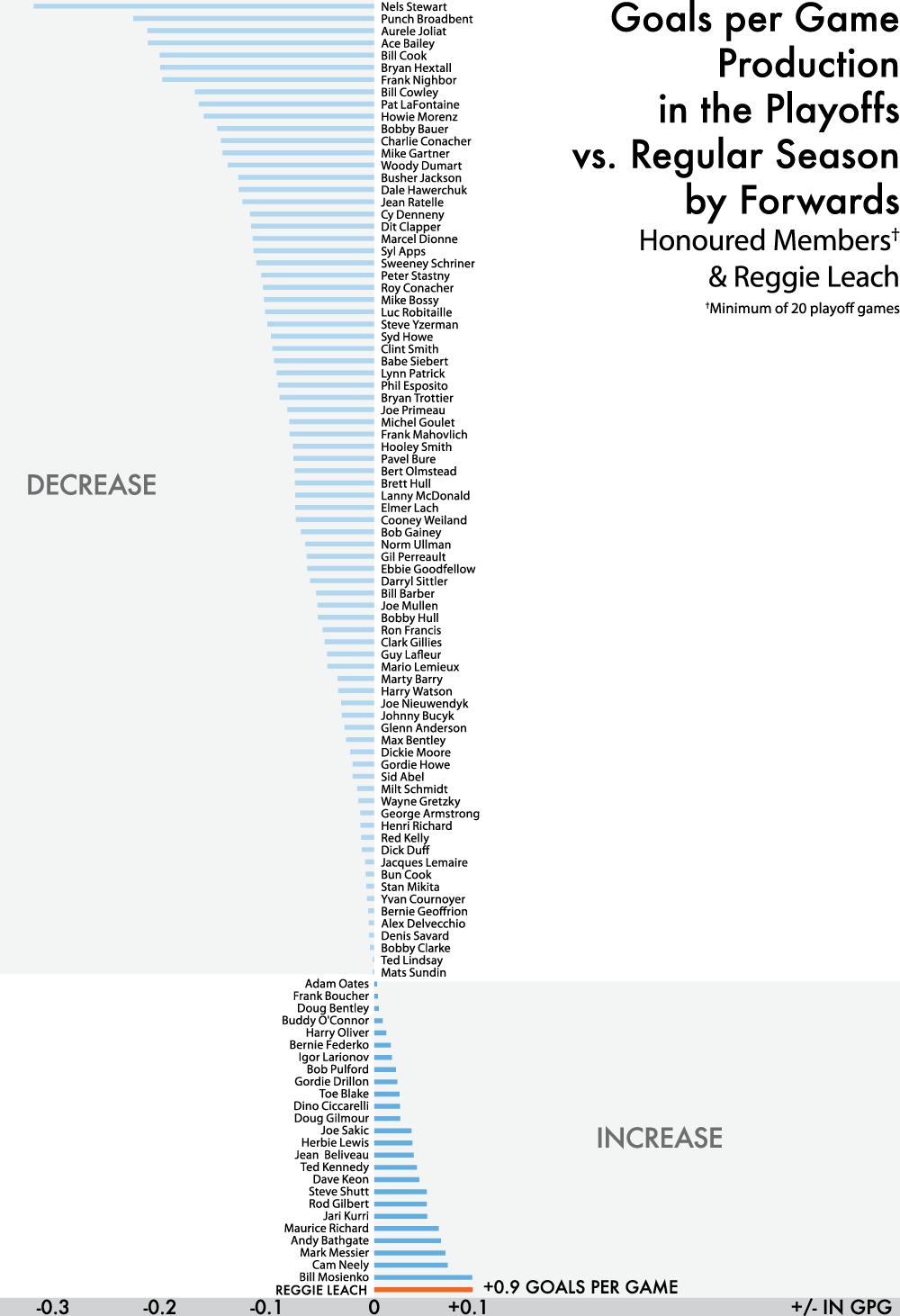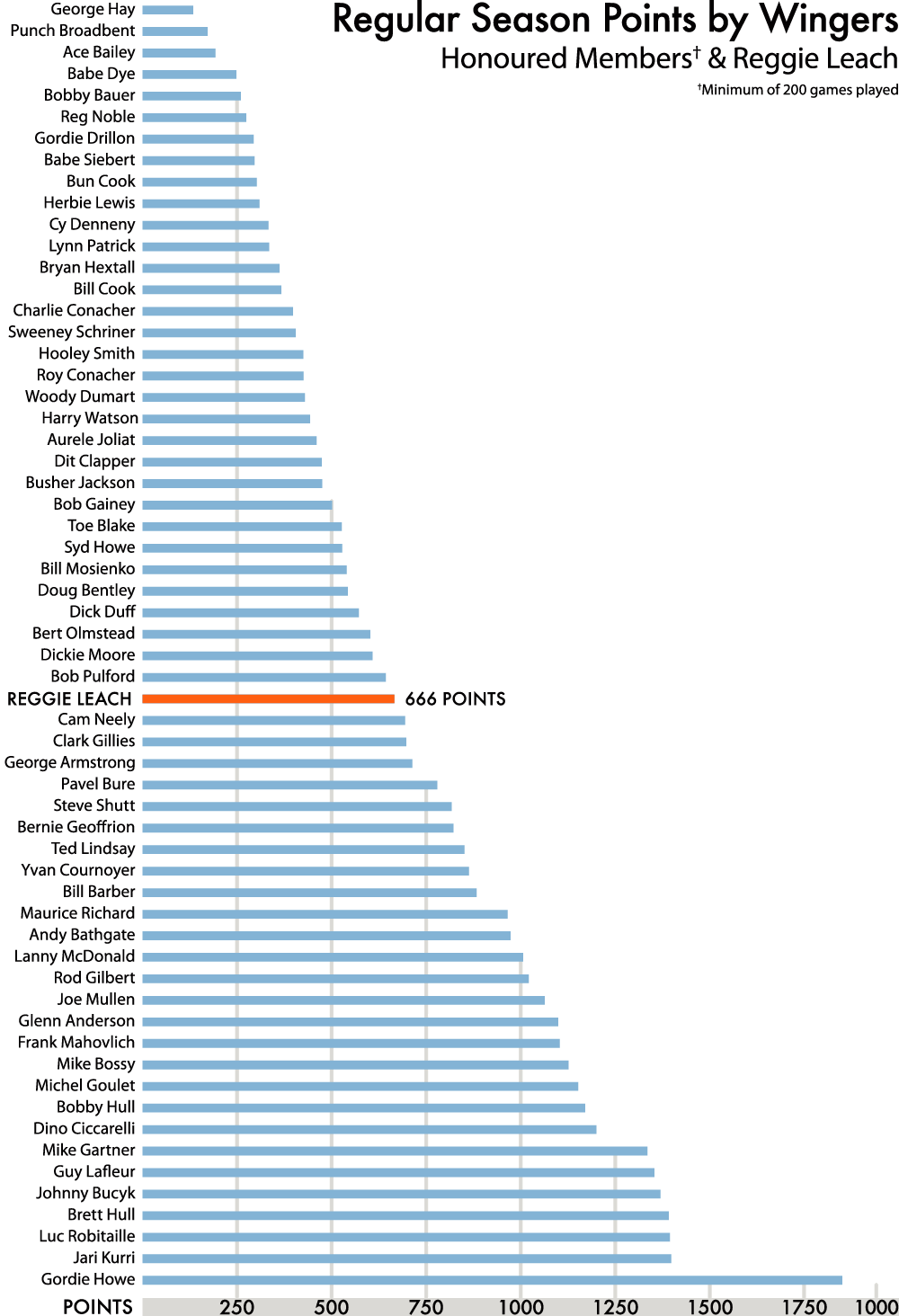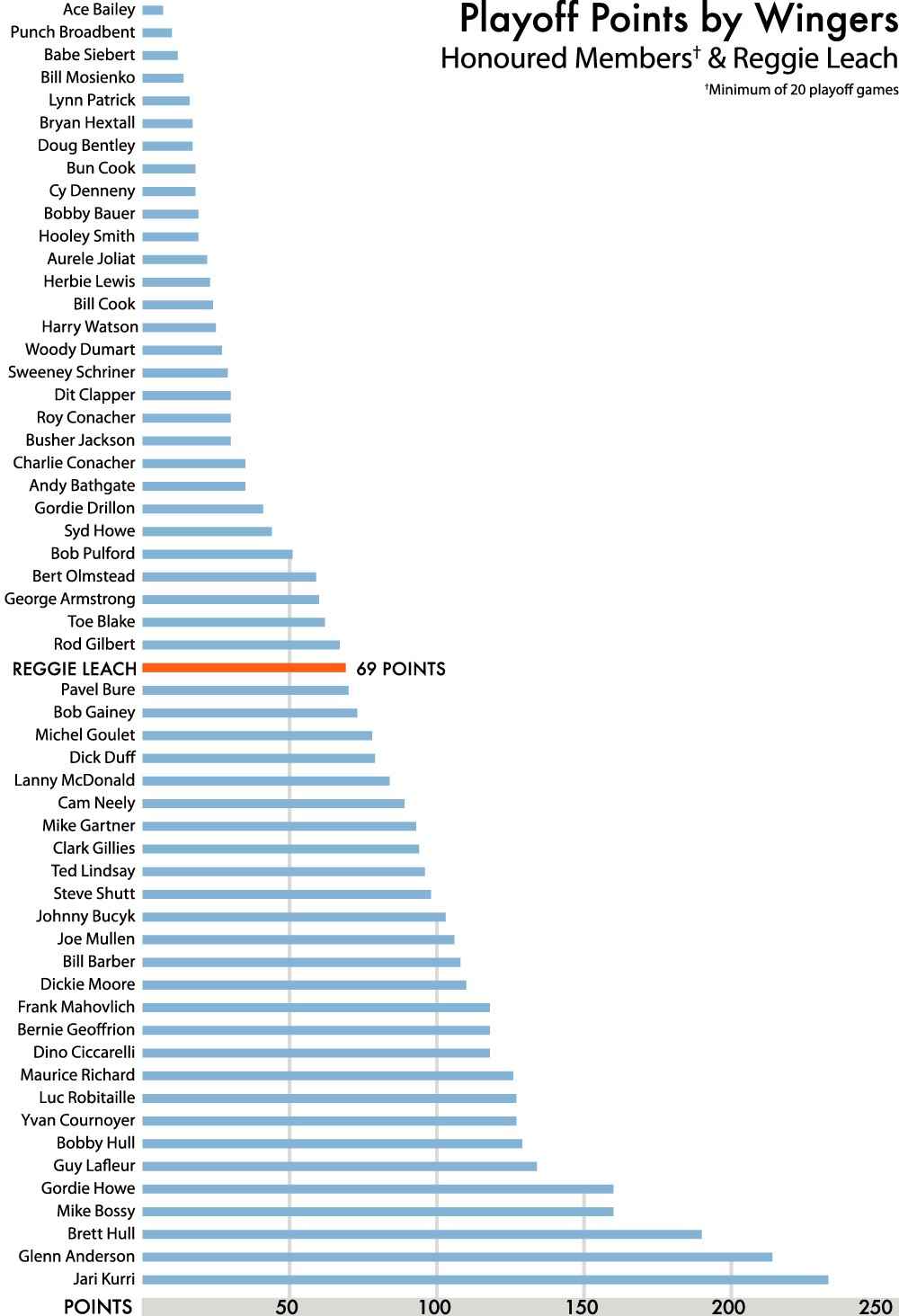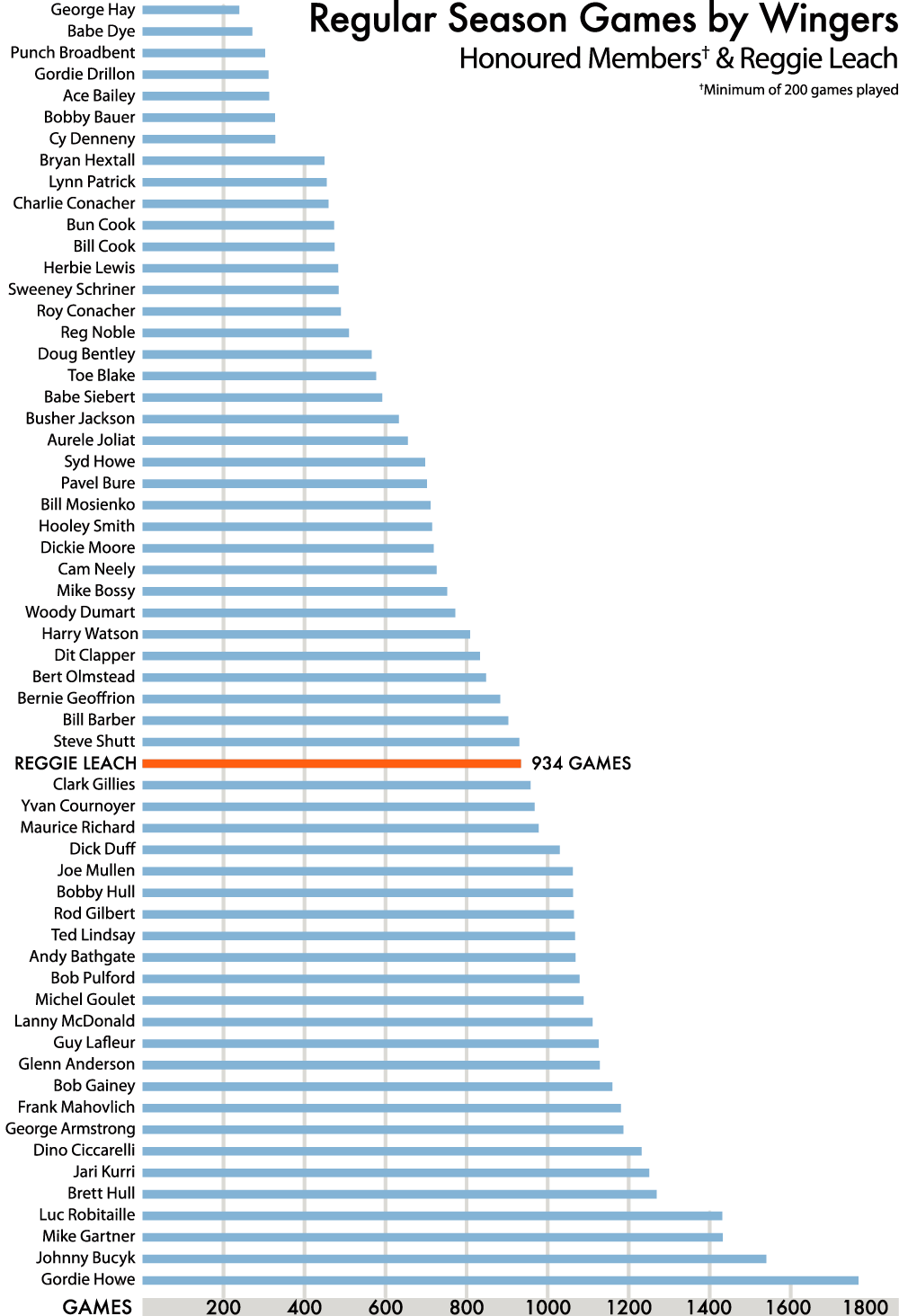 Data source: www.hhof.com
Letters of Support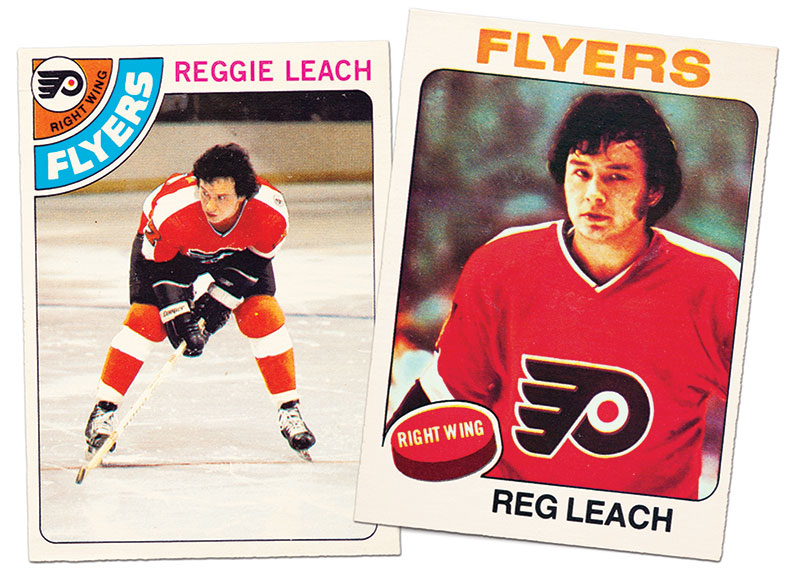 Research and Design by Dozen Able Men. Web development by Amphibian.